📍 Scan QR Codes for Location and Equipment Requests
Welcome to our step-by-step guide on generating QR codes for pinpointing locations or assets. Experience a new level of convenience in task & request creation! Our latest enhancement enables you to scan location and equipment QR codes to create requests and work orders instantly. This streamlined process ensures accuracy and reduces manual input time.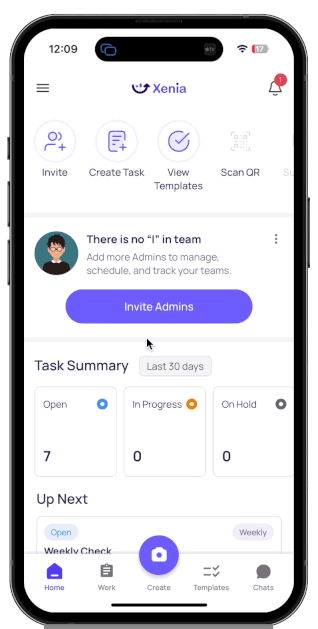 Why You Should Use QR Codes?
In the modern, fast-paced business environment, efficiency and organization are key. Here are some compelling reasons why adopting the QR code system should be on your agenda:
Speed and Convenience: Particularly for facilities or properties housing a multitude of assets or locations, the QR code system significantly speeds up the task or work order creation process. A quick scan is all it takes to get the job rolling, saving valuable time and effort.

Enhanced Organization and Data Reporting: The QR code system serves as a potent tool for frontline staff, facilitating better organization and effective use of the Xenia Mobile App. By encouraging active usage of the app, it ensures that your team can generate insightful data and reporting, paving the way for informed decision-making.

Simplicity in Implementation: Our QR code creation process is designed with user convenience in mind, requiring just a few clicks to set up. This simplicity ensures a smooth and hassle-free experience, allowing your team to focus on what matters most.
By incorporating the QR code system into your operations, you are not only streamlining processes but also enhancing the overall efficiency and productivity of your team.
🌟 Section 1: Generating your QR Code for a Location or Equipment/Asset
Whether you are tagging a tangible asset or demarcating a specific location, generating a QR code is your first step.
In this video guide, we will walk you through the process of generating QR codes seamlessly within the application. Follow these steps to create your 1st QR Code!
Navigate to the "Locations" tab or "Assets" tab
Click on the "+ Add" button in the upper right
Create a location or asset/equipment (add any details and attached files)
Click on the "Add QR Code" button in the location/asset/equipment creation form
Finalize the creation by clicking on "Add Asset" or "Add Location"
Click on the location or asset/equipment to view its details
Click on "View" button next to the QR Code. This will expand the QR Code in a Pop-Up window.
Print or download your QR Code
Stick your QR Code in your Location or directly on the Asset/Equipment
📱 Section 2: Scanning a QR Code from your Mobile App
Scanning a QR code is a breeze with our mobile app. You can use the native camera app or the built-in scanner in the home and work tabs to initiate a scan. Here we will guide you through the various scenarios where you can employ the scan feature to enhance your efficiency.
In this video guide, you will learn how to:
Scan QR codes from "Home" and "Work" tabs on your Mobile App
Scan QR codes directly from inside of the Task Form / Request Form
📋 Section 3: Creating a Task or Work Order from a QR Code
Upon scanning a QR code, creating a task is a straightforward process. This section dives deep into how to create tasks directly from the scanned information, saving time and reducing manual input. From asset identification to task assignment, we have it covered here.
In this video guide, we cover:
Creating work orders from asset/location scans
How to use the task form effectively
Auto-populating fields using scanned data