Operations Template Definition
In Xenia, Operations Templates refers to form based tools used to complete work and collect data. These can be checklists, logs, SOPs, inspections, meeting agendas and more.
Each Operations Template consists of a list of steps of various types (shown below), organized into customizable sections.
Step Types of Operations Templates
Procedure: Short step-by-step punch list items, great for to-do lists.
Text Field: Add text or readings to a step; specify units of measurement.
Number Answer: Prompt team members to respond to a step with a number value and units.
Cost: Prompt team members to respond to a step with a dollar amount ($ USD, € Euro).
Pass/Fail: Pass or fail items to facilitate inspections & audits.
Take Photo: Capture an image for a step.
Temperature: Prompt team members to respond to a step with a temperature (°F, °C, or K).
Date/Time: Prompt team members to respond to a step with a Date/Time.
Building Operations Templates in Xenia
Xenia provides a free ready-to-use operations template library, Any template from the library can be saved and edited.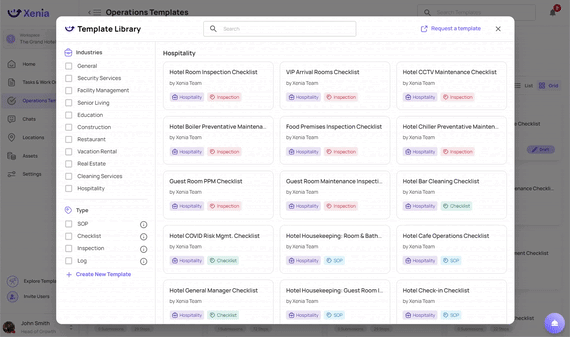 Xenia also has an operations template builder to create any template you need.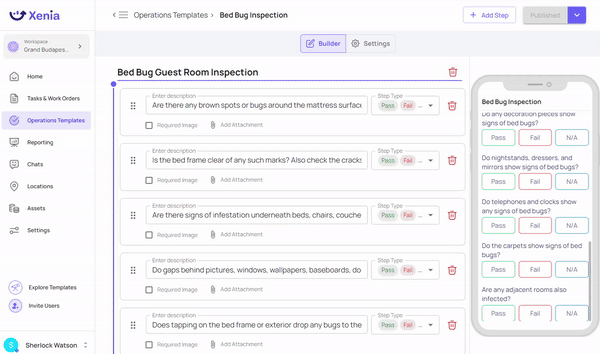 Step-By-Step Guides to Build Operations Templates in Xenia
How to Build an Inspection Template
Using Operations Templates in Xenia
Once created, operations templates can be used or assigned to individuals or teams by attaching them to tasks or work orders.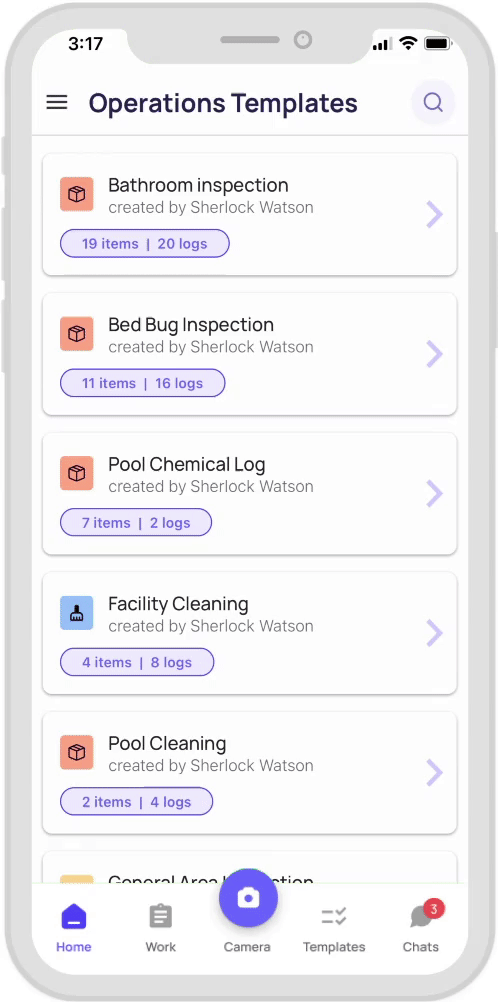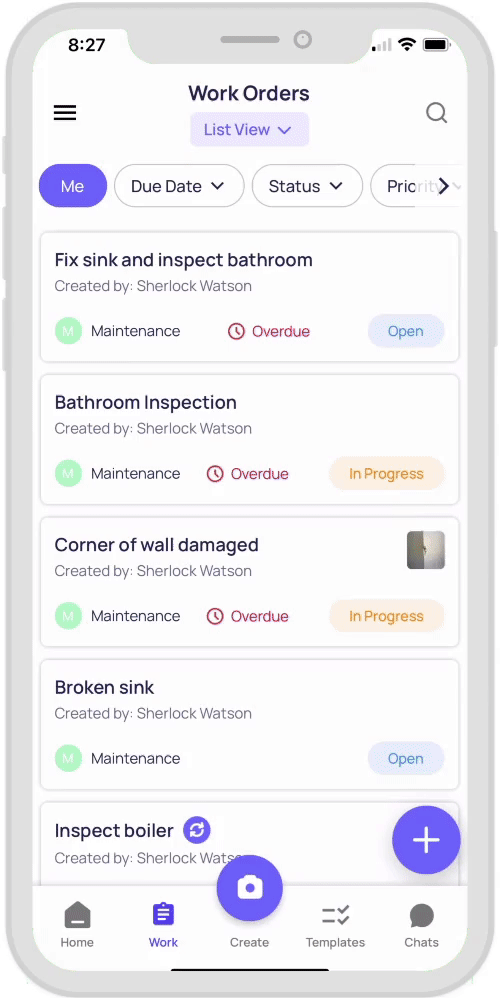 Operations templates can be completed on desktop and mobile devices with time stamps for every step of the template. All responses, attached images and notes are securely stored in the cloud for analysis and reporting.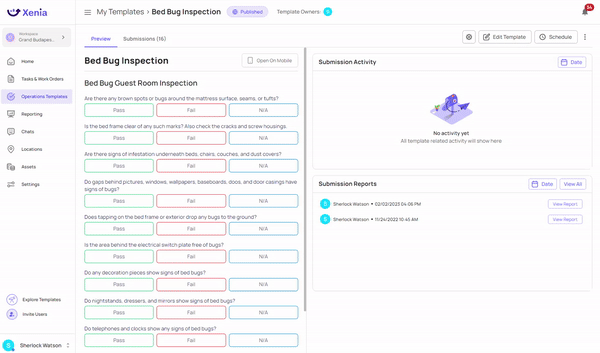 In Xenia, every operations template has a submission log of every entry with accompanying data. This data can be exported into an Excel file with every submission in the rows, and the accompanying responses in the columns. You can also export each individual submission in a clean PDF report.
The Value of Operations Templates
Operations templates are crucial for lean business operations and clear data trails for asset health, compliance and employee performance.
Here are a few key takeaways:
Standardization: Digital operations templates help businesses standardize their processes by providing a consistent framework for activities across different locations, teams or business units.

Data collection: Templates can capture relevant data and provide a central repository for information. This allows for more efficient and accurate data collection, reducing errors and improving decision-making.

Audit trails: Using templates creates a digital trail of activities, providing an audit trail for compliance, quality control or regulatory purposes. This can also help identify areas for improvement.

Asset health tracking: Templates can be used to track the health and maintenance of assets, such as machinery or equipment. This helps identify potential issues before they become critical and allows for more effective maintenance planning.

Operations improvement: By standardizing processes, collecting data, and tracking asset health, businesses can identify areas for improvement and implement changes more effectively. This leads to improved operational efficiency, reduced costs, and increased productivity.
Video Guides: Navigating Operations Templates on Web & Mobile App